Coin of Life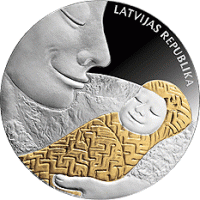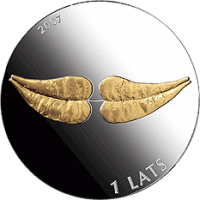 Sale
Buying
Obverse
Two golden heart-shaped leaves linked with a silver line are placed in the centre. The inscriptions 2007 and 1 LATS, each arranged in a semicircle, are at the top on the left and at the bottom on the right respectively.
Reverse
The reverse of the coin features Mother embracing a child in golden swaddling-clothes. The inscription LATVIJAS REPUBLIKA, arranged in a semicircle, is at the top on the right.
Edge
Plain.
"Close your eyes," says John Chrysostom, addressing those in the presence of a sacred image, for it is a passionate plea that is of importance in this mysterious event, not viewing or exploitation. In designing Madonna with a Child for the reverse of the coin, Ilmārs Blumbergs seems to have followed Chrysostom's advice, for the half-closed eyelids of the woman radiate an indirect, gentle gaze at the new life, yet simultaneously the gaze is turned inward as a vision of some higher being. The newborn has not yet awakened, it is unaware of its being.
The creator and life are mysteriously connected, as are the artist's design and its viewer. The Madonna icon is the symbol of motherly love that embraces creation and education, a never ending care for those travelling through life and those in face of peril and disaster. It has always been one of the most popular icons, for people turn to it when they need to strengthen their hope and faith.
The obverse of the coin features two golden heart-shaped leaves against a perfectly smooth background. The laconic composition entails a two-fold message. The first part is a direct reference to the plant symbolism characteristic of an agrarian culture: a fresh two-leaf shoot as a seedling of life. The second is less direct and its meaning is manifold: lips and a kiss as a symbol of life giving force, faithfulness and respect, as a sign of erotic love, also the treachery of Judas… In other words, it is a concentrate of human experience.
In recent decades, people's understanding of classical values has changed. The youth associate Madonna with the famous pop star, whereas "icon" (from the Greek "eikōn" - an image) that for centuries was associated with sacred art in Christian churches has become a computer term that's associated with launching a program or performing a task.
An understanding of the miracle of life is the program and task represented by this coin.
За период с 2012-12-29 по 2023-08-29 монета подорожала на 12%