Collector Coin Ventspils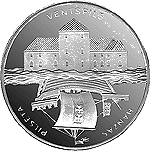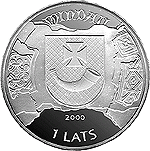 Sale
Buying
Obverse
The coat of arms of Ventspils (Windau), which was adopted in 1925, is featured in the centre. To highlight the importance of Ventspils in trade between the East and the West, two fragmented bands with ethnographic ornaments of various cultures are placed to the right and left of the central motif. The year 2000 is inscribed right below the coat of arms. The inscriptions WINDAU and 1 LATS, each arranged in a semicircle, are respectively above and beneath the central motif.
Reverse
A stretch of sea waves divides the coin's reverse in two parts. The Venta Castle, topped by the inscription VENTSPILS arranged in a semicircle, is depicted in the upper part. The reflection of a Hanseatic ship is featured in the lower part. The inscription HANZAS PILSETA (Hanseatic city) is placed in a semicircle beneath it.
Edge
The inscriptions LATVIJAS REPUBLIKA (Republic of Latvia) and LATVIJAS BANKA (Bank of Latvia), separated by dots.
The coin is issued within the international coin program Hansa Cities, organized by the Mint of Finland, and is dedicated to Ventspils, one of the eight Hanseatic cities of Latvia. Within this program, the Bank of Latvia will also issue coins commemorating other Hanseatic cities of Latvia.
First references to a port in this territory were made as early as 1263. The Venta Castle, which was built by the Livonian Order, is first referred to in chronicles in 1290. From the 14th to 16th century, Ventspils was a member of the Hanseatic League. The 17th century saw Ventspils evolve into the major port of the Duchy of Kurland and Semigallia. In our day Ventspils is both an important trading centre and a major port on the Baltic Sea coast.
За период с 2012-12-29 по 2023-09-25 монета подорожала на 39%