Hansa Cities. Straupe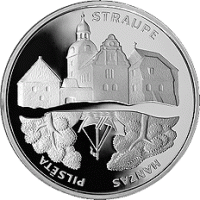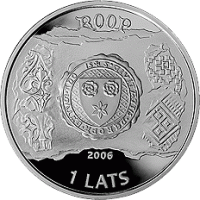 Sale
Buying
Obverse
The Hanseatic city seal with the coat of arms of Straupe is in the centre of the coin's obverse. The year 2006 is inscribed right below the coat of arms. The inscriptions ROOP and 1 LATS, each arranged in a semicircle, are respectively above and beneath the central motif.
Reverse
The coin's reverse is divided into two parts. The Lielstraupe castle church is depicted in the upper part of the coin, with the inscription STRAUPE semi-circled above it. A reflection of a Hanseatic ship with trees on both sides of it and a semi-circled inscription HANSEATIC CITY below it is at the bottom of the reverse.
Edge
The inscriptions LATVIJAS REPUBLIKA (Republic of Latvia) and LATVIJAS BANKA (Bank of Latvia) separated by dots.
The coin has been dedicated to Straupe, one of the eight Hanseatic cities of Latvia.
За период с 2012-12-29 по 2023-10-04 монета подорожала на 123%