Set of coins "The Latgalian Ceramics"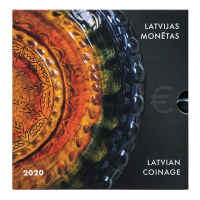 Sale
Buying
On the territory of the present-day Latvia, traditional pottery-making developed mainly in Latgale and Kurzeme. In Latgale, it has become one of the most vivid examples of traditional cultural heritage, a part of the Latvian Cultural Canon.
The stylistic range of Latgalian pottery encompasses both the highly ornate baroque techniques (especially for clay candelabra, whistles, mugs, plates) as well as minimalism in the selection of colours and ornamentations. Nowadays, simple and ascetic solutions prevail, yet the glazing and ornamentation traditions are also continued.
Latgalian pottery is characterised by two lines of development: a practical one (present in the region for thousands of years) and a decorative one (evolved since 1930s). The so-called Silajāņi ceramics gained most attention in the 20th century. One of the most prominent representatives, Andrejs Paulāns (1896–1973), was famous for his three-branch and five-branch candelabra. Himself and Polikarps Vilcāns (1894–1969) were making seven-, nine- and even 15- and 25-branch candelabra. The commemorative coin dedicated to Latgalian ceramics features an image of a five-branch candelabra.
За период с 2020-06-12 по 2023-12-08 монета подорожала на 186%