2 EURO COIN / Vidzeme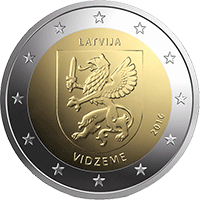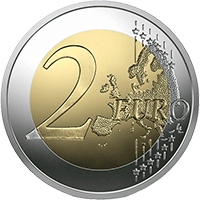 Sale
Buying
Common side
A geographical image of Europe, the number "2" and the inscription EURO.
National side
The national side features the coat of arms of Vidzeme.
Edge
The finely milled edge features the inscription DIEVS SVĒTĪ LATVIJU (God Bless Latvia), with the words separated by stars.
Vidzeme is the most populated region of Latvia, accounting for more than a half of Latvia's population. The longest river of Latvia, the Gauja River, the highest peak Gaiziņš and the largest cave Gūtmaņala are located in Vidzeme.
Vidzeme formed in the territory inhabited by Latgallians and Livs until the 13th century. The borders of the territory coincide with those of the so-called Latvian part of the Swedish Livonia of the 17th century. The borderline stretched along the rivers Daugava, Aiviekste and Pededze. The movement of brethren congregations played an important role here in the 18th century, but the 19th century saw many remarkable rural craft centres and the building of sailing vessels on the coast of the Gulf of Riga. During the period of the New Latvians movement, activity of Latvian cultural players increased in Vidzeme. Numerous cultural and artistic specialists have come from this region. Inhabitants of Vidzeme speak the Middle dialect of Latvian, the Latgallian and Selonian accents of the High Latvian dialect and the Vidzeme accent of the Livonian dialect. Janīna Kursīte believes that the latter should be included in the UNESCO World Heritage List just like the Suiti cultural space.