Set "Fairy Tale Coins"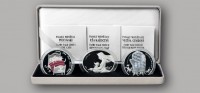 Sale
Buying
The set features the following coins:
"Fairy Tale Coin I. Five Cats"
"Fairy Tale Coin II. Hedgehog's Coat"
"Fairy Tale Coin III. The Old Man's Mitten"
Fairy tales are a part of our cultural heritage which is passed on from generation to generation, now also using a silver coin as a medium. The fairy tales teach us to be good, to be diligent, and the good always wins.