Jazeps Vitols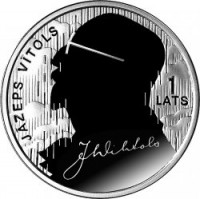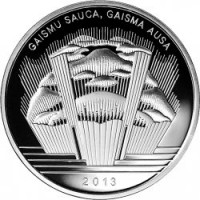 Sale
Buying
Obverse
Jāzeps Vītols's portrait in profile is in the centre of the obverse of the coin. The inscription JĀZEPS VĪTOLS is semi-circled on the left, the digit 1 on top of the inscription LATS is on the right, and Jāzeps Vītols's facsimile signature is at the lower part of the obverse.
Reverse
The lower part of the reverse features five horizontal parallel lines, from which rays of light are spreading out like an arc, with a semi-circled inscription GAISMU SAUCA, GAISMA AUSA (We called for light and there was light) at the top, and the year 2013 at the bottom.
Edge
The inscriptions LATVIJAS BANKA (Bank of Latvia) and LATVIJAS REPUBLIKA (Republic of Latvia), separated by rhombic dots.
Jāzeps Vītols (1863–1948) had two working lives. Before the founding of an independent Latvian state, he was a highly respected professor at the St. Petersburg Conservatory, music critic, friend of Rimsky-Korsakov, Liadov and Glazunov as well as an activist of the Latvian community in St. Petersburg. When it seemed that the time was right to retire and enjoy fishing, a favourite pastime of Vītols, he returned to Latvia at the age of fifty-five and launched a new career: he established a conservatory, thereby laying the cornerstone for professional musical education in the young Latvian state. Up until his departure from Latvia in 1944, Vītols (with a brief hiatus) was head of the conservatory and raised a whole generation of brilliant musicians. With his gleaming pate, aquiline nose, favourably, but not excessively, inclined, invariably sporting a loose tie of white silk, he was always at the centre of the music life of the young country. The memories of Vītols's pupils speak of great respect and love for their teacher.
Vītols was a patriarch of music education. He was also the author of witty, self-ironic memoirs, a knowledgeable (but not necessarily unprejudiced) reviewer of musical events, a good, if not very ambitious, conductor, an active public figure, and, last but not least, a composer. Over the years, he contributed several compositions of instrumental chamber music and piano pieces, some symphonic scores and, at the top of the list, his solo songs (still not fully recognised) and choir songs (recognised, yet seldom performed).
Albeit Vītols worked at a time when national romanticism was dominant, he was rather a representative of classicism. Balance, perfection of form, precision in laying out his thought are paramount in his music. Vītols does not attempt to draw his listener in. His "I" finds its expression in aristocratic reticence, which, nevertheless, is not devoid of passion, tragedy, love, or a good joke.
The Bank of Latvia marks Vītols's 150th anniversary by issuing a collector coin with the motto "Gaismu sauca, gaisma ausa" (We called for light and there was light). And there is indeed much light in Vītols's music, to mention only his choir songs Saules svētki (Celebration of Sun), Saule austrumos (Sun in the East), Diena aust (A New Day Dawning), Jau saulē sārti kvēlo sils (Woods Burnished Red by the Sun), Karaļmeita (King's Daughter) who is weaving new light, morning dawn in the song Pie dzintara jūras (By the Amber Sea), etc. The paths of the light traced in his choir song Gaismas pils (Castle of Light) (1900) are, by all means, one of the most powerful symbols of the Latvian Song Festivals. It is always sung by the great joint mixed choir of the Festival and has been conducted by such masters as Jāzeps Vītols himself, Teodors Kalniņš, Leonīds Vīgners, Haralds Mednis and Imants Kokars. In a sense, Vītols's music and his personality are also the nation's castle of light that can never drown in oblivion.