Atlanta Olympic Games of 1996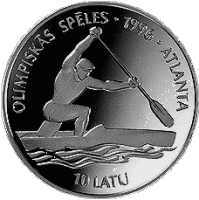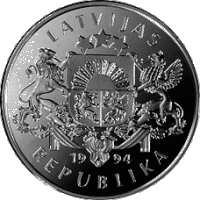 Sale
Buying
Obverse
The large coat of arms of the Republic of Latvia, with the year 1994 inscribed below, is placed in the centre The inscriptions LATVIJAS and REPUBLIKA, each arranged in a semicircle, are above and beneath the central motif, respectively.
Reverse
A canoeist with an oar raised for a stroke is depicted in the centre; the inscription OLIMPISKAS SPELES · 1996 · ATLANTA (Olympic Games 1996 Atlanta) forms a semicircle above the picture. The numeral 10 and inscription LATU (lats) are placed beneath the picture.
Edge
Two inscriptions LATVIJAS BANKA (Bank of Latvia), separated by three stars.
Rowing has long-established traditions in Latvia as the first Rowers Club was founded in Riga in 1872. The Olympic debut of Latvian rowers took place in Mexico in 1968. Four years later, in the 1976 Montreal Olympic Games, Aivars Lazdenieks won a silver medal for the USSR crew (men four). 1980 brought a set of silver medals for the Latvian crew consisting of Zorzs Tikmers, Dzintars Krisjanis, Dimants Krisjanis, Arturs Garonskis and Juris Berzins (men four with coxswain).
Remarkable success was achieved by Maija Kaufmane-Pumpure and Daina Sveica-Mellenberga (women pair-oars), who won the European Championship on three occasions (1964-1966). Janina Gzibovska and Ruta Veinberga took bronze (1974) and silver (1975) in the World Championships about ten years later. Sarmite Stone (women eight) has won two and Aleksandrs Avdejevs (kayak, men single) four World Championships.
The first Latvian canoeists to gain worldwide success were Laimonis Kravalis and Gunars Smits, who won the European and World Championships for juniors. The most outstanding achievements are those of Ivans Klementjevs (canoe, men single), Olympic gold in Seoul (1988) and two Olympic silver medals in Barcelona (1992) and Atlanta (1996). He has been the World Champion seven times.
Latvia's hopes for the 2000 Sydney Olympic Games are associated with Andris Reinholds (men, single) Jefims Klementjevs (canoe, men single).