Riga - 800. 20th Century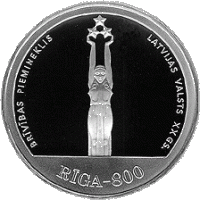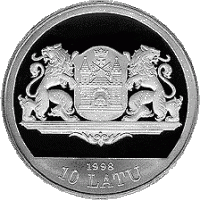 Sale
Buying
Obverse
Riga's coat of arms, which was adopted in 1925, is featured in the centre of the coin. The year 1998, numeral 10 and inscription LATU (lats) are placed beneath the motif.
Reverse
The statue of Liberty, which tops the Freedom Monument, is depicted in the centre of the coin. The inscriptions BRIVIBAS PIEMINEKLIS (Freedom Monument) and LATVIJAS VALSTS XX GS. (State of Latvia 20th century), each arranged in a semicircle, are placed to the left and to the right of the central motif, respectively. The inscription RIGA-800 is placed beneath the motif.
Edge
The inscriptions LATVIJAS REPUBLIKA (Republic of Latvia) and LATVIJAS BANKA (Bank of Latvia), separated by rhombic dots.
The 20th century began with an economic upturn. In 1901, Riga celebrated its 700th anniversary by organizing a grand exhibition to boast its achievements in industry and crafts. Art nouveau buildings in the area of boulevards form an architectural ensemble of European significance.
World War I turned Riga into a front-line city, and much of its wealth was evacuated to the Russian interior.
The fall of the Russian Empire marked the end of the war. On November 18, 1918, after two years of liberation struggles and suffering, the Republic of Latvia was proclaimed. The country was devastated and its capital Riga had lost much of its strength and economic influence. Nevertheless, in less than a decade, Riga succeeded in healing its war wounds and setting up an economic system that met the needs of the new state. Because of its orderliness and flourishing culture, Riga was called "the little Paris".
After twenty years of peaceful development, World War II, accompanied by Soviet occupation and deportations, again brought disaster and loss. Forced by the occupation powers, Latvians and people of other nationalities fled from Riga, seeking safety. The post-war years opened up a new reality, leaving their trace in Riga's features - its ethnical composition, cultural and social life.
In 1991, Latvia regained its independence. Riga, once again a capital of a free and independent state, looks forward to its 800th anniversary.
The Freedom Monument, a masterpiece by the sculptor Karlis Zale, built in the very heart of the city in 1935 has become a symbol of Latvia's independence. The coin's reverse depicts the statue of Freedom that tops the Monument.
The coin's obverse features Riga's 1925 coat of arms, re-adopted after the restoration of independence.