Set "Heritage of Latvia"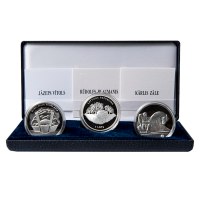 Sale
Buying
The heritage of Latvia's culture and art comprises outstanding personalities' contributions to music, literature and architecture.
Jāzeps Vītols (1863–1948), professor at the St. Petersburg Conservatory and music critic, returned to Latvia at the age of fifty-five. He established a conservatory and raised a whole generation of brilliant musicians. Vītols was a highly respected conductor and composer whose solo and choir songs are a part of the musical gems of the nation.
The most important contribution of Rūdolfs Blaumanis (1863–1908) to Latvian literature is his work in fiction and drama portraying the life and way of thinking of country people. The timeframe in these plays and short stories is the turn of the 20th century when Latvians started thinking of themselves as a nation and the foundation was laid for future statehood. These words in the poem "The Bugler of Tālava" was Blaumanis's credo:
"My gold is my people,
My pride is my people's pride!"
The outstanding Latvian sculptor Kārlis Zāle (1888–1942) created the sculptural memorial of the Brethren Cemetery and the Freedom Monument that both have gained the status of national treasures. The visual image embodying the struggle for national independence and a simultaneous commemoration of the basic Latvian values became a symbol capable of unifying the Latvian nation. In his work, Zāle demonstrated his true love of the native land, people and country.