Salt Lake City - 2002. Ice Hockey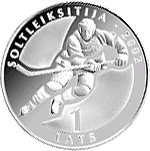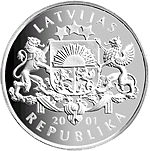 Sale
Buying
Obverse
The large coat of arms of the Republic of Latvia, with the year 2001 inscribed below, is placed in the centre. The inscriptions LATVIJAS and REPUBLIKA, each arranged in a semicircle, are respectively above and beneath the central motif.
Reverse
A player with a hockey-stick is set against a background of ice, which is featured by applying different degrees of frosting. The inscription SOLTLEIKSITIJA · 2002 (Salt Lake City · 2002), arranged in a semicircle, is placed above the central motif along the coin's edge. The inscription LATS, topped with the numeral 1, is beneath the motif.
Edge
Three inscriptions LATVIJA, separated by dots.
The history of ice hockey in Latvia dates back to 1929. As early as 1931, Latvia joined the International Ice Hockey Federation. In May 7, 1992, the country renewed its membership. Until 1940, the statistics of Latvia's national team in 26 games was as follows: 6 wins, 16 losses, 4 ties, and 37 goals for and 93 goals against. For the first time, Latvia's ice hockey team participated in the 1936 Olympic Winter Games in Garmisch-Partenkirchen.
After regaining independence, Latvia was free to assemble its national team again. The first official game after 52 years was held on November 7, 1992. Latvia played against Lithuania, winning with a score of 13:2. Aigars Cipruss was the player to score the first goal for the national team, while the second goal belonged to the team's captain Helmuts Balderis. The outstanding performance of goalkeeper Peteris Skudra contributed to the victory. Balderis played on the USSR's team, winning World Championship Best Forward Award and becoming World Champion and Vice-Champion in the Lake Placid Olympics. The 37-old Balderis was the first Latvian to be drafted by an NHL team, and in 1989, he played for Minnesota North Stars. Balderis represented Latvia's national team only twice, afterwards becoming its coach. The Latvian team's success in Finland was followed by a tournament in Mont Blanc in December 1992, where Latvia's national team won the Trophy in battle with teams from Norway, Austria and France. In March 1993, Latvia's national team claimed gold in the Group C World Championship in Slovenia.
Coached by Leonid Beresnev, Latvia's team won the Group B World Championship in the spring of 1996. This championship was dominated by Arturs Irbe, the legendary Latvian goalkeeper (World Championship Best Goalkeeper Award in 1990). In November 1999, Harijs Vitolins became the captain of the team. The eighth-place finish in the 2000 Group A World Championship in St. Petersburgh was a remarkable achievement for Latvia's national team. The most memorable and acclaimed victory of the team was that over Russia on May 5 (3 : 2). Headed by the 2001 coach Haralds Vasiljevs, the team won the right to participate in the Winter Olympics in Salt Lake City. Moreover, Riga has been chosen to host the Group A World Championship in 2004. Go, Latvia!
За период с 2012-12-29 по 2023-12-08 монета подорожала на 25%