Coin of Time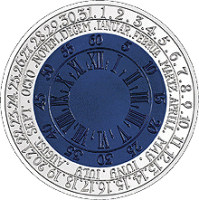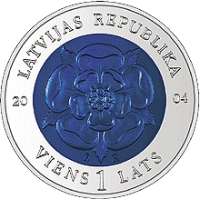 Sale
Buying
Obverse
A symbol of a heraldic rose with letters H and R beneath it is placed in the central part of the coin. The inscription LATVIJAS REPUBLIKA (Republic of Latvia) is arranged in semicircle at the top of the outer ring, the inscription of the divided year 2004 is situated on the left and right from the coin's center, and beneath it there is the semicircular inscription VIENS 1 LATS (ONE 1 LATS).
Reverse
The reverse of the coin features the dial of the clock with indications of hours and minutes in the central part, and the names of months and the dates in the outer ring.
Edge
Plain
The Bank of Latvia is launching a unique bimetallic Coin of Time whose central part struck in hazy bluish metal niobium is enclosed by an outer silver ring. The images on this coin of remarkable shade and little known material - a heraldic five-petal rose and an astronomical clock - communicate a feeling of romance and mystery.
Heinrich Rose (1795-1864) started his carrier as a chemist and carried out his first investigations as an apprentice of a pharmacy in Jelgava at the beginning of the 19th century. Later he moved to Berlin, served as professor at the University of Berlin, and was member of the Prussian Academy of Sciences. In 1844, Heinrich Rose profoundly investigated the minerals columbites and tantalites from a variety of countries and discovered in them a new element with its chemical properties close to those of tantalum. H. Rose called this new element niobium. The names of both chemicals are derived from Greek mythology: Goddess Niobe was the daughter of Tantalus, son of Zeus. Niobium finds use in systems that are to operate in high temperatures and aggressive environments. Though it is a long time since multi-coloured coins, produced by coating the metal with enamel or dye, have been known to the numismatic circles, the use of niobium in coin minting started quite recently when Münze Österreich recognised the ability of the metal to create shades of colours as a result of electrochemical processing.
The reverse of the coin features an astronomical clock whose historical prototype can be seen in the luxuriant pediment of the Blackheads House. The clock dial lacks hands, and the central field of the blue niobium disc is empty. It entices and encourages the observance (engraving) of an essential solemn occasion - a child coming into the world, a daring idea flashing up, a significant activity successfully completed, a new family formed, - of anything that is an Event in human life. It is the Coin of Time, meant as a gift to embody personal memories of essential moments of life.
The niobium field of the obverse features a heraldic rose, symbol of love and reverence. The tiny, hardly visible letters H and R are a discreet reminder of the scientist who worked and made his discovery in Latvia.