FIFA World Cup 2006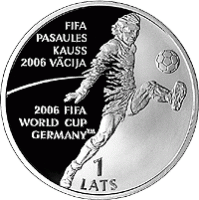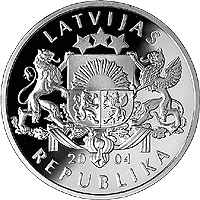 Sale
Buying
Obverse
The large coat of arms of the Republic of Latvia is placed in the centre, with the year 2004 inscribed below. The inscriptions LATVIJAS and REPUBLIKA, each arranged in a semicircle, are above and beneath the central motif, respectively.
Reverse
The left-hand side of the reverse is smooth, whereas the right-hand side has a dull surface. Inscriptions "FIFA PASAULES KAUSS 2006 VACIJA" and "2006 FIFA WORLD CUP GERMANYTM" are placed at the top and the bottom of the left-hand side of the reverse. A football player with a ball is featured on the right-hand side; the inscription LATS, topped with the numeral 1, is beneath it.
Edge
Three inscriptions LATVIJA, separated by rhombic dots.
Victories over Hungary, Poland, Sweden and Turkey, solid performance in Portugal against the Czech Republic and Germany: these are the greatest achievements in the 100 years of Latvian football. The sports union Keizarmezs was the first football champion of Latvia in 1922. In 1922, Latvia's Football Union became a member of FIFA, and by the summer of 1940 Latvia's national team had played 99 games.
During the Soviet occupation, Liepaja, Daugavpils, Jurmala and Jelgava had strong teams; but the team Daugava, which had been established by the coach Janis Skredelis in Riga, was particularly popular.
After Latvia regained its independence, the national team under the leadership of the coach Janis Gilis grew into a team whom the top class European football teams had to reckon with; but the greatest success was the qualification of Latvia's national football team, with Aleksandrs Starkovs as its head coach, for the European Championship finals in 2004.
The recent success has increased interest in football in Latvia, therefore the Bank of Latvia has issued a collector coin dedicated to 2006 FIFA World Cup as part of an international coin programme.
За период с 2012-12-29 по 2023-12-08 монета подорожала на 5%