Hansa Cities. Koknese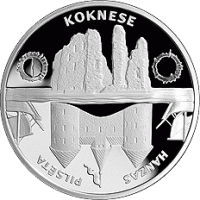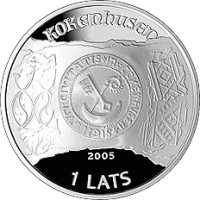 Sale
Buying
Obverse
The Hanseatic city seal with the coat of arms of Koknese is in the center of the coin's obverse. The year 2005 is inscribed right below the coat of arms. The inscriptions KOKENHUSEN and 1 LATS, each arranged in a semicircle, are respectively above and beneath the central motif.
Reverse
The coin's reverse is divided into two parts by a water body. At the top of it is a representation of the Koknese castle ruins with the Sun and the Moon on the sides with the name KOKNESE semi-circled above it on the right. A reflection of the Hanseatic Castle and ships with semi-circled inscription HANSEATIC CITY below it is at the bottom of the reverse.
Edge
The inscriptions LATVIJAS REPUBLIKA (Republic of Latvia) and LATVIJAS BANKA (Bank of Latvia) separated by dots.
This collector coin has been issued within the international coin program Hansa Cities, organised by the Mint of Finland, and is dedicated to Koknese, one of the eight Hanseatic cities of Latvia.
The region, home of the Lettgallians and Selians who were subjugated by the German crusading orders at the beginning of the 13th century, has fostered the town of Koknese and its castle, one of the three alternative residences of Riga archbishops of the 14th-16th centuries. As an important center of crafts and trade on the River Daugava, Koknese earned the town status in 1277, joined the Hanseatic League in the 14th century, and grew into a frequented holiday and tourist hub nestling down in the beautiful landscape of the Daugava and Perse rivers.
За период с 2012-12-29 по 2023-12-03 монета подорожала на 67%