The Smallest Gold Coins of the World - Art Nouveau. Riga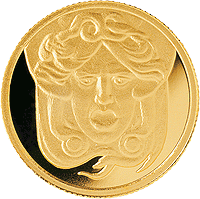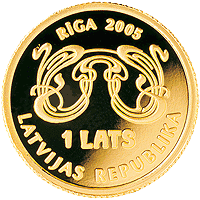 Sale
Buying
Obverse
The obverse of the coin features a typical ornate decoration of Art Nouveau, with the inscriptions RĪGA 2005 above it in a semicircle, 1 LATS under it, and LATVIJAS REPUBLIKA arranged in a semicircle at the bottom.
Reverse
The reverse features a mask from an Art Nouveau building in Riga.
Edge
Reeded.
Art Nouveau has many names (Jugendstil, Modernismo, stil modern, Stile Liberty, Sezessionstil, etc) and faces; there is no doubt, however, that it is the most imposing manifestation of architectural decadence. At the end of the 19th century and the beginning of the 20th century, Art Nouveau transformed the historic center of Riga, replacing the rational with the beautiful. The artistic treatment of purely utilitarian elements and the ornate decorations inherited from eclecticism lent striking form to entire city blocks that now communicated the same moods as symbolist painting and poetry. Like monumental stage curtains, the building facades seemed to guard the private lives of the residents from public space. Yet the wish to show off apparent in the coquettish sphinxes, spacious balconies and balustrades, in the window apertures resembling large key holes, in the groups of antique masks and solitary garlands to this day reminds us of the large-scale theatrical performance that takes place on both sides of these walls, involving us all.
The exhibition dedicated to the 700th anniversary of Riga in 1901 served as a showcase of Art Nouveau, educating and enticing the potential clients. The resulting uniqueness of residential and public buildings is the pride of the city; recognising that Riga has the finest collection of Art Nouveau buildings in Europe, the historic center of Riga was inscribed on the UNESCO World Cultural and Natural Heritage List in 1997. Art Nouveau buildings in Riga never cease to amaze the spectator with the quantity and artistic quality of all spectra of their stylistic solutions as well as harmonious proportions and perfect placement in their surroundings.
Mikhail Eizenstein (1867-1921), father of the world famous film director Sergei Eizenstein, was among the outstanding architects that designed Art Nouveau buildings in Riga. His signature style can be seen in the buildings in Elizabetes and Alberta streets; the striking mask that adorns one of them is featured on the reverse of the 1-lats collector coin issued within the international coin program "The Smallest Gold Coins of the World".
За период с 2012-12-29 по 2023-12-02 монета подорожала на 57%