Coin of Time II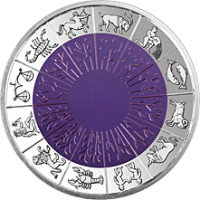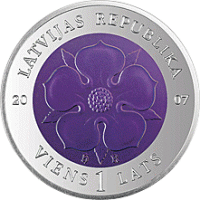 Sale
Buying
Obverse
A symbol of a heraldic rose with letters H and R beneath it is placed in the central part of the coin. The inscription LATVIJAS REPUBLIKA (Republic of Latvia) is arranged in a semicircle at the top of the outer ring, the inscription of the divided year 2007 is situated on the left and right from the coin's centre, and beneath it there is a semicircular inscription VIENS 1 LATS (One 1 Lats).
Reverse
The reverse of the coin features the signs of the Zodiac in a circle along the outer ring, and the images within it representing different evolutionary stages of the plant world symbolise the change of seasons.
Edge
Plain.
The outer ring of the second bimetallic coin issued by the Bank of Latvia is made of silver, and the central part is struck in niobium, tinted in dark purple.
The design concept of the coin has been built around the Zodiac circle, a popular mathematical abstraction reflecting the ascendancy of the universe over human destiny.
Already the ancient inhabitants of Mesopotamia, who happened to be excellent explorers of celestial bodies, divided the heavenly vault into 12 segments, thereby attaining a high degree of precision in systematising the star position. They studied astronomical and meteorological phenomena (emergence of comets, lunar and solar eclipses, the ascending and descending of planets and stars) in the context of events affecting the sovereign, state, the individual. The planets move through the constellations, most of which named after animals, from whose presence the circle divided into 12 segments got the name Zodiac - from zōdiakos (kyklos) in Greek, meaning "a circle of animals".
The outer silver ring of the reverse features the Zodiac circle and stands for the year, which begins in the middle of one winter and ends in the middle of the following winter. The central part of the coin is struck in tinted niobium, suggesting the fiery disc of the Sun. The signs of the Zodiac, arranged in a silver circle, appear on the tips of its rays. The unhurried observer will be able to discern that the rays actually conceal ascetically designed plants that change along with the four seasons. The central field is left blank: the owner can engrave his or her own sign of destiny or a commemoration of a special occasion.
The dark purple niobium field of the obverse features five-petalled rose, the most popular representation of a flower in heraldics. In Ancient Egypt and in Greek mythology rose was suggestive of feminine passion, beauty and source of inspiration; for Persians, it represented soldiers' valour; in Middle Ages, a rose-bud was taken for a sign of infinity and virginity. A red rose is given as a token of love. Letters H and R stand for Heinrich Rose (1795-1864), the discoverer of niobium.
За период с 2012-12-29 по 2023-09-21 монета подорожала на 25%