Hansa Cities. Limbazi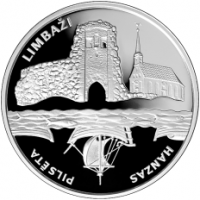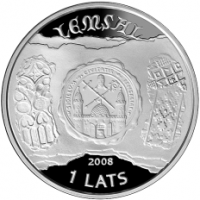 Sale
Buying
Obverse
The Hanseatic city seal with the coat of arms of Limbazi is in the center of the coin's obverse. Its left side reflects an element of the Gothic window opening, while its right part bears some ethnographic motifs of Northern Vidzeme. The year 2008 is inscribed right below the coat of arms. The inscriptions LEMSAL and 1 LATS, each arranged in a semicircle, are respectively above and beneath the central motif.
Reverse
The coin's reverse in divided into two parts by a water body. It bears representations of the Limbaži castle ruins and St. John's Church. The reflection of a Hanseatic ship is featured in the lower part. The inscription HANZAS PILSETA (Hanseatic city) is placed in a semicircle beneath it.
Edge
The inscriptions LATVIJAS REPUBLIKA (Republic of Latvia) and LATVIJAS BANKA (Bank of Latvia), separated by dots.
This collector coin has been issued within the international coin program Hansa Cities and is dedicated to Limbazi, one of the eight Hanseatic cities of Latvia.
The year 1223, when Bishop Albert started building a castle in the Metsepole province, was also the founding year of Limbazi. As one of the residences of the Arcbishop of Riga, Limbaži was awarded town status in 1385, later becoming a member of the Hanseatic League. Beginning with the middle of the 16th century, the city had to withstand a number of wars and fires, and at the end of the 19th century trade and crafts began to flourish there. Limbazi is a member of the New Hanseatic League. The historic centre of the city with its radial layout is a monument of urban planning and is considered part of the national heritage.
За период с 2012-12-29 по 2023-12-08 монета подорожала на 53%