Lucky coin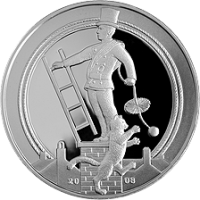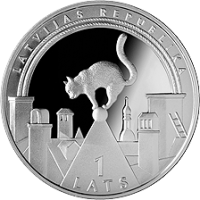 Sale
Buying
Obverse
A cat in the centre is featured against the background of roofs of a city. The inscription LATVIJAS REPUBLIKA is arranged in a semicircle at the top; the numeral 1 is placed in the lower part, and beneath it, the inscription LATS is arranged in a semicircle.
Reverse
Against the background of rooftops, in the centre a chimney-sweep is holding a ladder in his right hand and a coil of rope and a brush with weight in his left hand. A cat and inscription 2008 are placed lower centre.
Edge
Two inscriptions LATVIJAS BANKA (Bank of Latvia), separated by rhombic dots.
It is unlikely to come across a person who, at least once in his or her life, has not met a black-clad sooty man wearing a cap or even a dignified top hat. As a rule, his broadcloth coat is adorned with neat rows of polished brass buttons, and the wide leather belt has a shining metal buckle. Heavy laced-up boots balance out the chimney-sweep's habitually self-assured gait. Swung across his shoulder is the principal tool in his trade: a coil of long rope with a metal brush and weight.
Chimneys always need sweeping - wherever they are. The beginnings of the high period of chimney-sweeping date back to the 18th and 19th centuries, when urban dwellings were heated with coal, which polluted the city air and chimneys with thick soot. To prevent fires, townspeople had to take meticulous care of their chimneys.
Initially it used to be agile youngsters who were sent to the high rooftops to sweep chimneys, and, according to the 1788 rules of England, boys under eight were not allowed. Remember the sly Mr. Gamfield from Oliver Twist by Charles Dickens, who tried to make the little Oliver an apprentice in his chimney-sweeping business? As of 1840, the age limit was increased to twenty-one years. Thereafter, only mature males practiced the trade. Hence, the two porcelain figurines from Hans Christian Andersen's fairy-tale The Shepherdess and the Chimney-sweep are sufficiently grown-up to be bound by a selfless love.
Later on, as oil, natural gas and electricity gradually replaced coal, stoves were made obsolete by central heating. Though the services of chimney-sweeps continue to be in demand and the trade does not show any signs of dying out, the chances of running into a traditional chimney-sweep in a modern urban street are few and far between.
Chimney-sweeps are always smiling and cheerful, for they are aware that people are glad to see them - even if their chimney does not need sweeping or there is no chimney at all. This is because chimney-sweeps are believed to bring good luck. When people unexpectedly see a chimney-sweep walking down the street, they think of a wish and rub a black button for all their yearnings and desires to come true. Now and then, chimney-sweeps are even invited to weddings - as an assurance that the new family will be blessed with love, harmony, prosperity, and a flock of healthy children.
With its new coin, the Bank of Latvia aims to start a new tradition. As it is not so easy anymore to meet a chimney-sweep on everyday basis, we can rub this coin featuring the sooty man proudly poised on the chimney-top surveying the city, with a cat, that tireless roof-roamer, and a sweeping wind his only companions. If you believe in miracles, the lucky button trick should work: bring good fortune to your home, and fulfil all your secret desires.
За период с 2012-12-29 по 2022-03-28 монета подорожала на 30%