London - 2012. 100 years in Olympic Games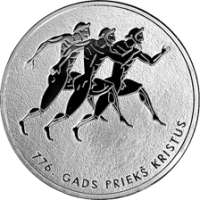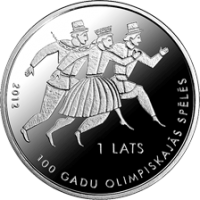 Sale
Buying
Obverse
The obverse features three figures of Latvian Olympic athletes in national costumes in the centre. The inscription 2012 is on the left from the figures and 1 LATS on the right beneath them. The inscription 100 GADU OLIMPISKAJĀS SPĒLĒS (100 Years in Olympic Games) is semi-circled at the bottom slightly to the right.
Reverse
A stylised image of three ancient Greek runners is placed in the centre. There is the inscription 776. GADS PRIEKŠ KRISTUS (776 Before Christ) underneath slightly to the right.
Edge
The inscriptions LATVIJAS REPUBLIKA (Republic of Latvia) and LATVIJAS BANKA (Bank of Latvia), separated by rhombic dots.
Assiduity with which our ancestors gathered amber was praised by Roman historians Gaius Cornelius Tacitus and Pliny the Elder. Latvians are said to have been brisk enough to survive through the calamitous centuries, despite hard times and brutal challenges. Fortitude and physical adroitness tempered in hard toil and fighting helped them not to succumb and come through into the unknown.
The incredible human journey brought the Latvian to our contemporary world to face its virtues and rules. With his eyes wide open at last, he took a bold step to enter Europe. As appropriate for a cultural nation, he digested knowledge, mastered skills and sucked in habits, including those that the world and Europe had inherited from the ancient Greeks: philosophy, geometry, the theatre art and wisdom that a healthy mind makes a healthy body. Encouraged by it, the supporters of Zeus, the most powerful of all Olympians, had participated in sports games already at times when anyone who was not Greek or those living in other countries to the North was counted as barbarians. The Hellenic people had gathered in Olympia as early as 800 years before Christ, when all warfare ceased and racing, wrestling, boxing and disk throwing took place instead.
Where do the vivacious roots of ardent sporting spirit stem from nowadays? What lies underneath, if we remember that our ancestor Latvians did not relax in front of ancient temples to cherish lofty and noble philosophical ideas before running a marathon? They could not spare time for endless contemplation, for the pressing everyday needs made them run, throw, swim, jump, dive, slide and shoot with no respite. Rather, a bear woken up from its deep winter sleep in the Amber Sea environs could make them run a marathon for their lives. Few could be as strong as the national hero Bearslayer, for the majority their feet were all to rely on. Later these skills were reborn in the flashing-past heels of Jānis Daliņš and Aigars Fadejevs. In those days, the only help in the pursuit of game, either deer or roebuck, and making it contribute to the human food supply was an accurately thrown spear in the hands of a skilled user. Yet today, even though the Latvian is used to consuming chips lazily, his hunter gene has not gone forever. And look! His hand is already reaching out to launch a spear, one after another, in pursuit of the Olympic reward.
With the instrumental contribution of the French Baron Pierre de Coubertin the ancient Greek sporting traditions revived in the modern times in 1896. Initially, the Latvian attitude was rustically precautious, but it changed radically in 1912 when 31 competitors from Vidzeme and Kurzeme headed to Stockholm to participate in the Olympic Games. Moreover, the skilful clay pigeon shooter Haralds Blaus even won the Olympic bronze!
Since then, the Latvian athletes, spurred by the Olympic spirit, have participated in almost all Modern Olympics. The first Olympic silver went to Jānis Daliņš, a great Latvian distance walker, in 1932 in Los Angeles, but Inese Jaunzeme won the first Olympic gold in javelin throwing in Melbourne in 1956. The Latvians have been particularly successful in the latter event, for I. Jaunzeme's achievement was replicated by Elvīra Ozoliņa in 1960 in Rome, Jānis Lūsis in 1968 in Mexico, and Dainis Kūla in 1980 in Moscow. The Latvians almost constantly replenished their gold reserves, and their international image of victors was almost constantly polished by successful participation in basketball, volleyball, gymnastics, sailing, rowing, shooting, luge and bobsleigh. All in all so far in winter and summer Olympic Games, the Latvian athletes have harvested 20 gold, 40 silver and 20 bronze medals. Honour to whom honour is due!
The Bank of Latvia is celebrating this rich contribution, from time to time deserving the admiration of almost the entire world, by issuing a special collector coin and simultaneously a friendly inducement to attain new and higher goals at the London 2012 Games. Have audacity to move ahead – altius, citius, fortius!
За период с 2012-12-29 по 2023-06-30 монета подорожала на 10%