Satversmei 100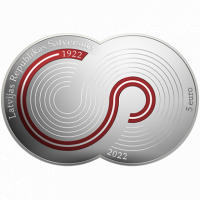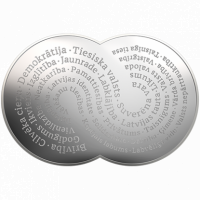 Продажа
Покупка
Obverse
The shape of the coin: two connected circles, partially overlapping each other. In the centre of the circles: frosted arched lines, passing from the one circle to the other. One of the lines is highlighted by an overprint in the colours of Latvia's flag (red, white, red). On the left side at the top of the circle, the inscription Latvijas Republikas Satversme is semi-circled, with the year 1922 placed below it on the red-white-red line. The inscription 5 EURO is featured on the right side of the circle, while the year 2022 is placed in the right circle at the bottom to the left.
Reverse
The circles are connected by words arranged in the form of arched lines and reflecting the basic values included in Satversme.
Edge
Plain.
Satversme, the Constitution of the Republic of Latvia, lays down the constitutional foundations of the State of Latvia and embodies one of the symbols of our statehood. The thoughts and aspirations of the founders of the state have become the words of power that allow each generation to build a strong and sustainable democratic state governed by the rule of law. The wording of Satversme is uniting the founders of the state and its future generations in a single idea of the Republic of Latvia.
Satversme will never become outdated. The wording of Satversme remains unchanged, but its reading evolves with time. Each generation contributes to the spirit of Satversme, providing strength to the state of Latvia and support to everyone who needs protection under the law.
"We hope and remain confident that this new Satversme will help us to fully establish lawfulness and justice in Latvia and thus prosperity and order for its people. Let this new Satversme make Latvia happy and strong!" These words were spoken by Jānis Čakste, the first President of the Republic of Latvia, in 1922 when Satversme came into force.
Even after a century, we should read Satversme keeping in mind those words by Jānis Čakste. It should be done in the hope that Latvia will always be governed by fair laws and everyone will enjoy the freedom to realise his or her potential. It should be done with confidence that everyone will always be equal in his or her rights and respect, and that the State of Latvia will live forever.
Satversme makes it possible for us to celebrate freedom, independence, democracy and the rule of law in Latvia – the country where everyone is free to strive for prosperity and happiness.
Let us celebrate the centenary of Satversme!