1 lats - Parity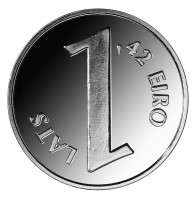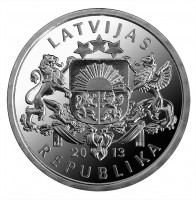 Sale
Buying
Obverse
The large coat of arms of the Republic of Latvia, with the year 2013 inscribed below, is placed in the centre. The inscriptions LATVIJAS and REPUBLIKA, each arranged in a semicircle, are above and beneath the central motif respectively.
Reverse
The numeral "1" with its own reflected duplication in an identical yet reversed form features as a conjunctive element of the inscriptions "1 LATS" and "1,42 EIRO".
Edge
Two inscriptions LATVIJAS BANKA (Bank of Latvia), separated by rhombic dots.
The turn of the year is an important landmark for cash circulation in Latvia, because from then on the payment flow is going to change. The lats-to-euro changeover is treated with utmost responsibility both in non-cash settlements and euro banknote and coin supplies, the latter featuring such symbols on their national side as the Latvian folk-maid, the small or the large coat of arms of the Republic of Latvia.
The people of Latvia are gradually getting accustomed to the dual price display by fair euro introducers who maintain the parity between the lats and the euro in the name of their good business reputation. With 1 January, a reverse dual pricing will be applied yet the parity principle will have to be maintained; it will serve as a confirmation that the bridge leading to the euro has been built on a solid basis and, hence, the people accept the euro notes as favoured items.
The Bank of Latvia is issuing its very last special 1-lats circulation coin, which will be legal tender until the end of the year, to afterwards serve as a tangible proof, preserved in metal, of the exchange rate at the moment of the euro adoption.
The image of the coin can be looked upon as a symbolic tree trunk keeping the roots and the branches, the earth and the sky together. It can be perceived as a road to new dreams, challenges and success. The ability and intelligence to face these challenges and accept new opportunities will be crucial for Latvia and its people in order to take their rightful place, solidly, permanently and with assurance, among the other nations within the common European economic and cultural space. The experience already gained in different spheres of life is the roots that delve deep into the soil; the future lies in the hands of those who chase their dreams. And at this point, there also has to be parity.
За период с 2013-11-05 по 2022-02-09 монета подорожала на 134%