50th Anniversary of the United Nations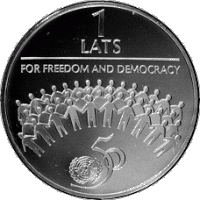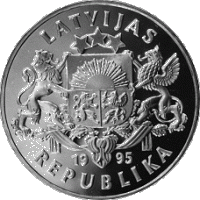 Sale
Buying
Obverse
The large coat of arms of the Republic of Latvia, with the year 1995 inscribed below, is placed in the centre. The inscriptions LATVIJAS and REPUBLIKA, each arranged in a semicircle, are above and beneath the central motif, respectively.
Reverse
The reverse is horizontally divided into two parts. A silhouette of a group of people standing hand in hand is situated in the centre of the lower part; underneath there is the emblem of the 50th anniversary of the UN. The numeral 1, above the inscription LATS, is placed in the centre of the upper part and separated from the picture by a horizontal line and the inscription FOR FREEDOM AND DEMOCRACY.
Edge
Two inscriptions LATVIJAS BANKA (Bank of Latvia), separated by three stars.
When in June 1945 some fifty nations met in San Francisco to approve the United Nations Charter, the Republic of Latvia, unfortunately, was not among them. The Charter was ratified and brought into effect on October 24, 1945, now annually celebrated as the United Nations Day.
Fifty years later, in 1995, the United Nations celebrated a history of remarkable achievements and the beginning of an era of new challenges requiring the co-operation of each and every nation.
Latvia became a member of the United Nations on September 17, 1991, after regaining its independence, which ended 50 years of Soviet occupation.
To celebrate the 50th anniversary of the United Nations and its unfailing commitment to a better world, Latvia issued a special 1 lats sterling silver coin. Human figures, depicted on the reverse, symbolize the return of Latvia into the community of free and democratic nations.