Fairy Tale Coin I. Five Cats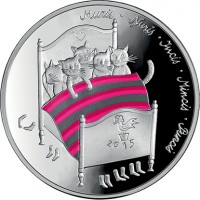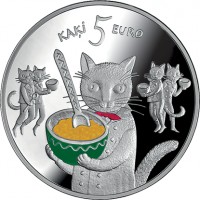 Sale
Buying
Obverse
The obverse of the coin features a bed with five sleeping cats. The bed-foot is decorated with an image and the inscription 2015. The names of five cats – Muris, Ņuris, Incis, Mincis and Puncis – are arranged in a semi-circle on the right.
Reverse
A cat holding a porridge bowl is placed in the centre. Cats with smaller bowls and spoons are featured on either side of the central motif. The words KAĶI (CATS) and EURO, with the inscription of the coin's value and cats' number "5" in between them, are placed at the top.
Edge
The inscriptions LATVIJAS BANKA and LATVIJAS REPUBLIKA (Republic of Latvia), separated by rhombic dots.
Latvians have always loved fairy tales with their message encouraging kindness and the virtue of diligence. Evil is also present, yet the good always wins. This traditional heritage contains the code of folk wisdom, philosophy and ethics; some scenario is always played out and a piece of useful advice given as part of emotional and moral education.
The Latvian fairy tale about the five cats is one of those which parents tend to read to their children as a bedtime story and which they are always asked to read again. The cats are engaged in a very practical activity: "Five cats went to the forest to cut firewood. They cut and cut, but ended up with nothing. Tails raised they came back home. They came back home and looked around, but there really was no firewood at all.
They went to the forest again and came back with a log each: one log was short, another small, the third was neither. Finally, all five of them started the fire, made some porridge and devoured it greedily. They ate so much that they could hardly walk and decided to just go to sleep. Let's go and look whether they may be still asleep.".
The Latvian children's book writer Vilma Delle (1892–1980) turned this fairy tale into sweet and slightly comical verse. Her poem "Five Cats", with its romantic and sympathetic atmosphere reminiscent of Kārlis Skalbe's "Pussy's Watermill" tale, was first published in the youth magazine "Jaunības Tekas" in 1920, and the narrative begins as follows:
"Five cats once had a thought:
A pot of porridge would be good.
We've got milk, a pot's been brought –
Just have to cut some firewood."
After all their trouble getting the firewood, they got their reward, for, according to folk wisdom, one's well-being is based on using one's smarts, resourcefulness and diligence:
"Presently they cooked their meal,
There was food enough for all:
They ate and ate with so much zeal
That their bellies looked like balls."
The version of "Five Cats" by poet and artist Alberts Kronenbergs (1887–1958) was published in the children's magazine "Bērnība" in 1949, and there the cats are shown as quarrelsome creatures that cannot come to any agreement about working together and getting the firewood.
The series of Latvijas Banka's fairy tale coins is launched by the 5 euro collector coin "Five Cats". The design by artist Anita Paegle is suggestive of familial cosiness, warmth and well-being which can be achieved by good work.
За период с 2015-11-24 по 2023-10-03 монета подорожала на 221%