10 lats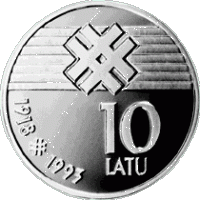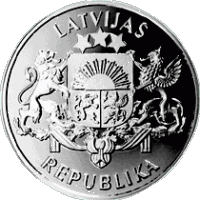 Sale
Buying
Obverse
The large coat of arms of the Republic of Latvia is placed in the centre. The inscriptions LATVIJAS and REPUBLIKA, each arranged in a semicircle, are above and beneath the central motif, respectively.
Reverse
The reverse is horizontally divided into two parts. An ethnographic motif on the background of seven horizontal lines is centered in the upper part. The numeral 10, with the inscription LATU (lats) beneath it, is placed on the right side of the lower part; the years 1918 and 1993 are inscribed on the left side along the edge of the coin.
Edge
Two inscriptions LATVIJAS VALSTS 75 GADI (the 75th anniversary of the state of Latvia), separated by rhombic dots.
За период с 2012-12-29 по 2023-12-09 монета подорожала на 2%