Torino - 2006. Bobsleigh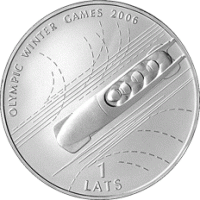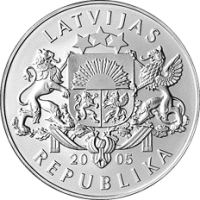 Sale
Buying
Obverse
The large coat of arms of the Republic of Latvia is placed in the centre, with the year 2005 beneath it. The inscriptions LATVIJAS and REPUBLIKA, each arranged in a semicircle, are above and beneath the central motif, respectively.
Reverse
The central motif of the coin is composed of a sled with four sportsmen in it. The inscription OLYMPIC WINTER GAMES 2006, arranged in a semicircle, is placed on the left side at the top of the coin. The numeral 1, with the inscription LATS beneath it, is centered at the lower part.
Edge
Three inscriptions LATVIJA, separated by rhombic dots.
The Bank of Latvia has issued a collector coin dedicated to the TORINO 2006 Olympic Games in Turin, Italy.
As a sports event embodying high speed unattainable in daily routine, a symbol of coordinated and bold action, and an expression of a remarkable human ascendancy, bobsleighing is popular in Latvia.
The sled of original design constructed at the VEF factory helped Latvia attain the first success and forge ahead. In 1984, Janis Kipurs and Aivars Snepsts worked their way to the title of European champions, and Zintis Ekmanis, sliding to the Olympic bronze in Sarajevo in the same year, won the European Championship in 1985. Maris Poikans and Ivars Berzups came first in the 1986 World Cup. At the 1988 Olympic Games in Calgary, Janis Kipurs was the winner of gold and bronze medals.
The 21st century has opened up new vistas of achievements ahead of the Latvian athletes. In 2003, Sandis Prusis piloted Latvia's sled to the title of European champions in the four-men bobsleigh event. The recent success of Latvia's sportsmen in junior sports events underpins the future sporting prowess. Moreover, in 2004 Janis Minins ranked among those few elect pilots of the world who had ever managed to win a double title at junior sports competitions. The athletes are likewise becoming more experienced in men's events.