The Piglet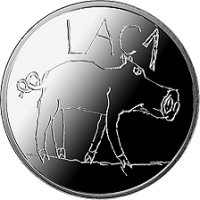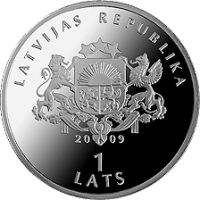 Sale
Buying
Collector coin inspired by the children's contest of drawings "MY DREAM COIN"
Obverse
The large coat of arms of the Republic of Latvia, with the year 2009 inscribed underneath, is placed in the centre. The inscription LATVIJAS REPUBLIKA, arranged in a semicircle, is above the central motif. The inscription LATS, topped with the numeral 1, is placed beneath the central motif.
Reverse
The central motif is a drawing by Emīlija Adumāne, a six-year old girl from Riga. Her drawing of the 1 lats ("lac" in her spelling) coin features a pig, the symbol of welfare, generosity and cheer.
Edge
Two inscriptions LATVIJAS BANKA, separated by rhombic dots.
The perception of a child has the purity of fresh spring that has not been clouded by any adult impressions. In 2008, the Bank of Latvia invited children from all over Latvia to the contest of drawings entitled "My Dream Coin". Over four thousand young coin designers took part. Emilija Adumane, a six-year old girl from Riga, managed to win the tough competition with her drawing of the 1 lats ("lac" in her spelling) coin featuring a pig, the symbol of welfare, generosity and cheer, which is among Latvians' favourite archetypes.
In Latvian folklore, the pig has been a regular companion of humans since time immemorial, a curious embodiment of peacefulness and well-being. Of the swine characters in books, movies and animation, the three little pigs are perhaps the most popular; yet Piglet, Winnie-the-Pooh's closest companion, the wise Babe from the eponymous Australian film, and the protagonist from Arnolds Burovs' animation film Sisidra or Pig is Pig's Friend are also much loved. Far from complete, this gallery of pink-coloured fictional characters all have valuable life lessons for kids.
In the West, the pig has also an economic connotation: just think of a piggy bank, that typically ceramic container with a special slot for inserting coins - a smaller or bigger household deposit box of money. Traditionally, these piggies are stuffed with coins and "give up their lives" as they are broken to shards to access the money. Although piggy banks cannot accommodate large amounts of money, the process of saving money helps children learn the habits of self-discipline and thrift, virtues that cannot be overestimated, particularly in hard times.
This child-like fascination with the pig finds its expression in Latvian fine arts. The prominent Latvian painters Gederts Eliass and Boriss Berzins often depicted swine-related events in their works, making a valuable contribution to the genre; social posters created by Juris Dimiters often feature the pig digging up and exposing important social problems; and the snout of the pig's sculpture by Teodors Zalkalns exhibited at the Latvian National Museum of Art has been rubbed smooth by several generations of Latvian children.
За период с 2012-12-29 по 2023-12-05 монета подорожала на 47%