Riga - European Capital of Culture 2014 (BU)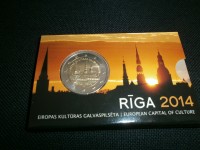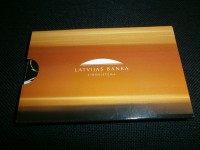 Sale
Buying
National side
The central image of the coin shows the skyline of Riga, with inscriptions "RĪGA – 2014" and "LV" underneath. At the top of the image there is a semi-circled inscription "EIROPAS KULTŪRAS GALVASPILSĒTA" (European Capital of Culture). The coin's outer ring depicts the 12 stars of the European flag.
European side
The central part carries the number "2" and the inscription "EURO", with a geographical image of Europe in the background.
Edge
The inscription "DIEVS SVĒTĪ LATVIJU" (God, Bless Latvia), with the words separated by stars.
Riga is the European Capital of Culture 2014. This designation and the activities related to the event present a new quality vision of the capital city and entire Latvia's affinity with Europe and the common cultural values.
The Programme of the European Capital of Culture comprises several hundreds of specially-designed events. Over 12 thousand people from almost 100 cultural establishments and non-governmental organisations have been involved in the Programme.
Quite a lot of events have resulted from successful partnership of Latvian and foreign creative groups and will be presented in Riga and Latvia for the first time. The Programme includes cultural events of global and European significance, among them concerts, exhibitions, shows and performances staged by Riga residents in 58 environs of the city.
Force Majeure – this is the name given to the Programme of European Capital of Culture of Riga. Culture as force majeure: via events of various genres and the interplay among different spheres of life Riga aspires to enhance the conviction that culture can change people's lives to the better. Riga is the city of inspiration!
За период с 2014-08-11 по 2023-12-08 монета подорожала на 996%