Visit of Pope John Paul II to Lithuania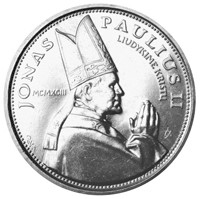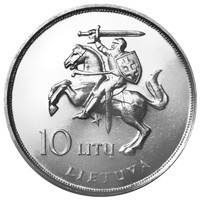 The obverse
of the coin features the Coat of Arms of the Republic of Lithuania with the inscriptions 10 LITŲ (10 litas) and LIETUVA (Lithuania) below it.
The reverse
of the coin displays a bas-relief with the portrait of the Pope John Paul II. The inscription JONAS PAULIUS II (John Paul II) arranged in a semi-circle runs at the top, the inscription LIUDYKIME KRISTŲ (Witness for Christ) at the bottom and MCMXCIII in Latin on the right.
The words on the edge of the coin:
TIKEJIMAS* MEILE* VILTIS*
(FAITH. LOVE. HOPE)
Alloy of copper and nickel (Cu 75%, Ni 25%).