World Lithuanians Song Festival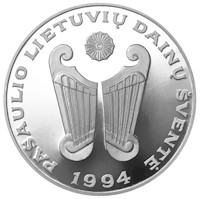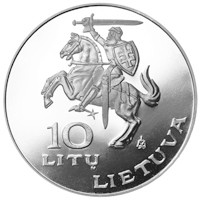 The obverse
of the coin features the Coat of Arms of the Republic of Lithuania with the inscriptions 10 LITŲ (10 litas) and LIETUVA (Lithuania) below it.
The reverse
of the coin symmetrically displays the kanklės (Lithuanian musical instrument). The sun, which is a traditional ornament used to decorate kanklės, is displayed above it. The inscriptions PASAULIO LIETUVIŲ DAINŲ ŠVENTĖ (World Lithuanian Song Festival) and 1994 are arranged around it.
The words on the edge of the coin:
SKRISKIT SKAISCIOS DAINOS* (RESOUND THE BRIGHT SONGS).
Alloy of copper and nickel (Cu 75%, Ni 25%).