1000th anniversary of the name of Lithuania (2008)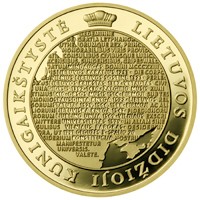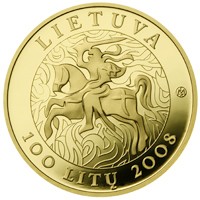 The obverse
of the coin carries a stylized image of the Coat of Arms of the Republic of Lithuania (Vytis) in the centre, against a background of the flames of historical victories and incessant recommencement. The inscription LIETUVA (Lithuania) at the top and the inscriptions 100 LITŲ (100 litas) and 2008 at the bottom run in a semicircle.
The reverse
of the coin features main events and milestones of the State, named on a background of a stylised map of the Grand Duchy of Lithuania. The whole composition is encircled by the inscription LIETUVOS DIDŽIOJI KUNIGAIKŠTYSTĖ (The Grand Duchy of Lithuania), with a coronet of the GDL Dukes on the top.
On the edge of the coin:
MILLENNIUM OF THE NAME OF LITHUANIA.