1000th anniversary of the name of Lithuania (2009))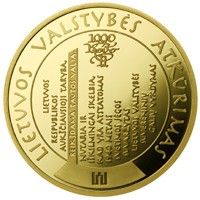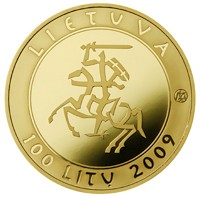 The obverse
of the coin sarries an image of the Coat of Arms of the Republic of Lithuania (Vytis) in the centre—for the first time improvised in a calligraphic way. The inscriptions LIETUVA (Lithuania), 100 LITŲ (100 litas) and 2009 are arranged in a semicircle.
The reverse
of the coin has an extract from the Act of the Restoration of the Independent State of Lithuania in the form of an impressionable metaphor. It is encircled by the inscription LIETUVOS VALSTYBĖS ATKŪRIMAS (Restoration of the State of Lithuania). At the top of the coin, there is a monogram of the 11th of March Act, created by the artist Bronius Leonavičius. The Columns of Gediminas are represented at the bottom of the coin.
On the edge of the coin:
MILLENNIUM OF THE NAME OF LITHUANIA.