1000th anniversary of the name of Lithuania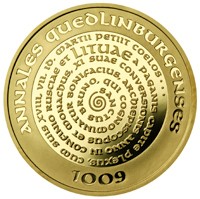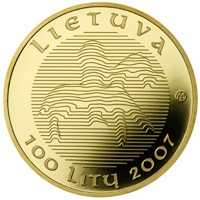 The obverse
of the coin features a stylised rider—an allusion to the Coat of Arms of the state of Lithuania. It is surrounded by the inscriptions LIETUVA (Lithuania), 100 LITŲ (100 litas) and 2007 arranged in a semi-circle.
The reverse
of the coin contains the composition of a fragment of the transcription of the Quedlinburg Annals (16th c.), which spirals from the centre to fill the circle of the coin. The composition is surrounded by the Latin inscription ANNALES QUEDLINBURGENSES and the year of the mention of the name of Lithuania – 1009.
The words on the edge of the coin:
MILLENNIUM OF THE NAME OF LITHUANIA.
The coin won second place in the "Unique idea solution" nomination at the international commemorative coin contest Coin Constellation held in St. Petersburg, Russia, in 2008.