10th anniversary of the reestablishment of independence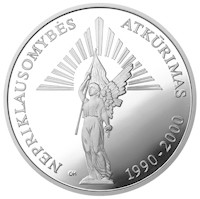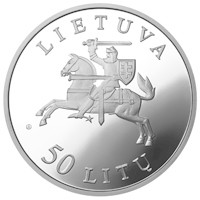 The obverse
of the coin features the Coat of Arms of the Republic of Lithuania. The inscription LIETUVA (Lithuania) arranged in a semi-circle runs at the top and 50 LITŲ (50 litas) at the bottom.
The reverse
of the coin displays the Statue of Freedom against a background of sun rays, encircled with the inscriptions NEPRIKLAUSOMYBĖS ATKŪRIMAS (Restoration of Independence) and 1990-2000.
On the edge of the coin:
LAISVE — AMZINOJI TAUTOS VERTYBE (FREEDOM IS AN ETERNAL WEALTH OF A NATION).