150th birth Anniversary of Gabriele Petkevicaite-Bite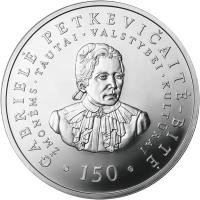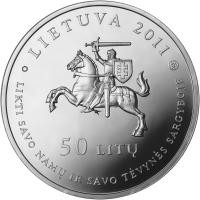 The obverse
of the coin carries an image of the Coat of Arms of the Republic of Lithuania (Vytis) in the centre. The inscriptions 50 LITŲ (50 litas), LIETUVA 2011, and LIKIT SAVO NAMŲ IR TĖVYNĖS SARGYBOJE ("Remain in the protection of your home and country") are arranged in a semicircle around it.
The reverse
of the coin bears an image of Gabrielė Petkevičaitė-Bitė. The image is surrounded by the inscriptions GABRIELĖ PETKEVIČAITĖ-BITĖ, 150, ŽMONĖMS TAUTAI VALSTYBEI KULTŪRAI ("For the People Nation State Culture").
On the edge of the coin:
AD ASTRA.