150th birth anniversary of Maironis (Jonas Mačiulis)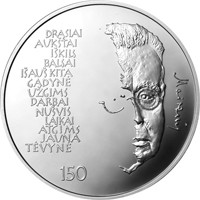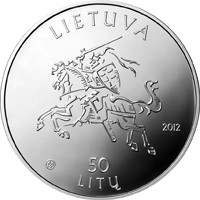 The obverse
of the coin carries a stylised image of the Coat of Arms of the Republic of Lithuania (Vytis) in the centre. the inscriptions LIETUVA, 50 LITŲ (50 litas) and 2012 are arranged in a semi-circle around it. Also featured on the coin is the mintmark of the Lithuanian Mint.
The reverse
of the coin features a stylised portrait of Maironis, a fragment from one of his poems, a facsimile of his signature and the number 150, which signifies his birth anniversary.
On the edge of the coin:
GINKIME KALBĄ, ŽEMĘ, JOS BŪDĄ! (Protect our language, land, traditions!).