1996 Summer Olympics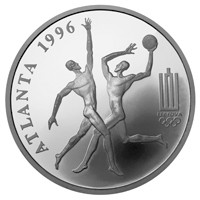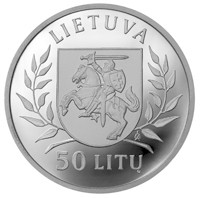 The obverse
of the coin features the Coat of Arms of the Republic of Lithuania inside a shield with floral motifs on both sides. The inscription LIETUVA (Lithuania) runs at the top and 50 LITŲ (50 litas) at the bottom.
The reverse
of the coin displays stylised figures of basketball players, the logo of the Lithuanian National Olympic Committee on the right and the inscriptions ATLANTA and 1996 arranged in a semi-circle on the left.
On the edge of the coin:
CITIUS. ALTIUS. FORTIUS.