200th birth anniversary of Adam Mickiewicz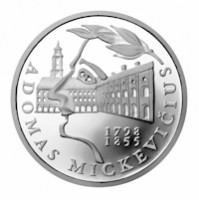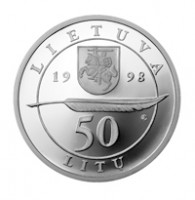 The obverse
of the coin features the Coat of Arms of the Republic of Lithuania inside a shield. Below it, a stylised feather is displayed. The inscription LIETUVA (Lithuania) arranged in a semi-circle runs at the top and 50 LITŲ (50 litas) at the bottom. The year 1998 is displayed on both sides of the Coat of Arms.
The reverse
of the coin displays the profile of the poet Adam Mickiewicz against the background of Vilnius University buildings. The inscription ADOMAS MICKEVIČIUS (Adam Mickiewicz) arranged in a semi-circle runs at the bottom. Below the centre of the coin, the years 1798-1855 are displayed.
The words on the edge of the coin:
TEVYNĖ LIETUVA, MIELESNĖ UŽ SVEIKATĄ* (MY HOMELAND, LITHUANIA, YOU ARE MORE PRECIOUS TO ME THAN MY HEALTH).