600th anniversary of the christening of Samogitia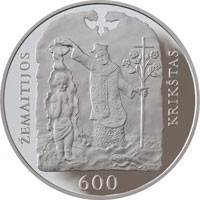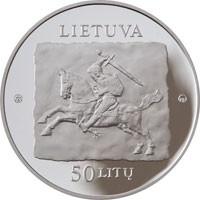 The obverse
of the coin features a stylized Vytis, the state emblem of the Republic of Lithuania in the centre; the inscription LIETUVA (Lithuania) above it; the denomination 50 LITŲ (50 litas) at the bottom. The mintmark of the Lithuanian Mint is on the obverse of the coins.
On the reverse
of the coins, a symbolic fragment of christening is artistically depicted in the center, the inscriptions ŽEMAITIJOS KRIKŠTAS (eng. SAMOGITIA CHRISTENING) and 600 are arranged around the fragment.
The edge of the coin
bears the inscription CONVERSIO CHRISTIANA SAMOGITIAE MCDXIII (eng. CONVERSION TO CHRISTIANITY OF SAMOGITIA 1413).