Biržai Castle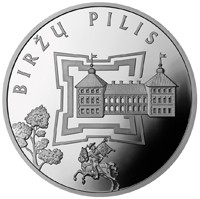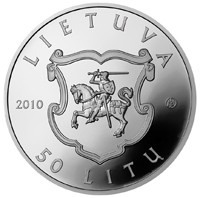 The obverse
of the coin carries a stylized image of the Coat of Arms of the Republic of Lithuania (Vytis) in the centre. The inscriptions LIETUVA, 50 LITŲ (50 litas), and 2010 are arranged in a semicircle around it.
The reverse
of the coin features a stylised picture of Biržai Castle, With the inscription BIRŽŲ PILIS (Biržai Castle) in a semicircle above it. Below the castle an image of a rider is depicted.
On the edge of the coin:
ISTORIJOS IR ARCHITEKTŪROS PAMINKLAI (HISTORICAL AND ARCHITECTURAL MONUMENTS).