Cardinal Vincentas Sladkevičius (1920–2000)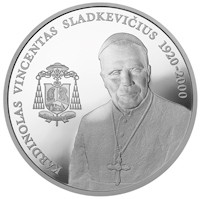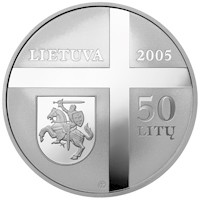 The obverse
of the coin has a stylised cross that divides the mirror surface into four parts, which display the Coat of Arms of the Republic of Lithuania inside a shield, with the inscriptions LIETUVA (Lithuania), 2005 and 50 LITŲ (50 litas).
The reverse
of the coin bears the portrait of Cardinal Vincentas Sladkevičius, with the Coat of Arms of the Cardinal next to the portrait. The portrait is encircled with the inscription KARDINOLAS VINCENTAS SLADKEVIČIUS 1920-2000 (Cardinal Vincentas Sladkevičius 1920-2000).
The words on the edge of the coin:
LET OUR LIFE BE BUILT ON GOODNESS AND HOPE.