January Events of 1991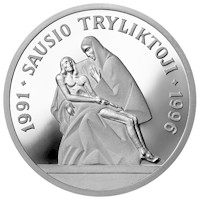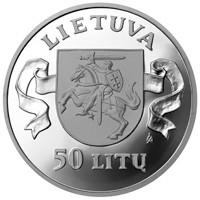 The obverse
of the coin features the Coat of Arms of the Republic of Lithuania inside a shield with ribbons waving symmetrically down on both sides of it. The inscription LIETUVA (Lithuania) runs at the top and 50 LITŲ (50 litas) at the bottom.
The reverse
of the coin displays the sculpture by the sculptor Stanislovas Kuzma "Pieta", a memorial to the defenders of freedom of Lithuania. The inscriptions 1991, SAUSIO TRYLIKTOJI (Thirteenth of January) and 1996 are arranged around it.
The words on the edge of the coin:
IR KRAUJU KRIKŠTYTI TAMPA VEL GYVYBE* (AND THOSE BAPTIZED WITH BLOOD BECOME LIVING AGAIN).