Kernavė (from the series "Historical and Architectural Monuments of Lithuania")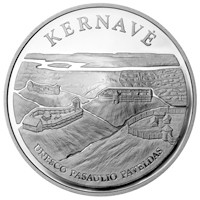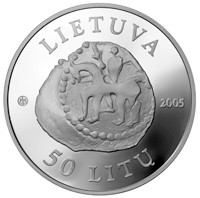 The obverse
of the coin features the ancient Lithuanian coin of the end of 14th century, in the centre of which Vytis, the symbol of the Grand Duke and the Coat of Arms of the state, is displayed. At the top runs the inscription LIETUVA (Lithuania) in the shape of a semi-circle, 50 LITŲ (50 litas) at the bottom and 2005 on the left.
The reverse
of the coin features the castle hills of Kernavė—the political, administrative and defence centre of Lithuania in the 13th–14th centuries. The inscription KERNAVĖ runs at the top and UNESCO PASAULIO PAVELDAS (UNESCO World Heritage) at the bottom.
On the edge of the coin:
ISTORIJOS IR ARCHITEKTUROS PAMINKLAI (HISTORICAL AND ARCHITECTURAL MONUMENTS).