Klaipėda (from the series "Cities of Lithuania")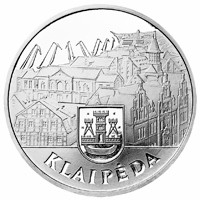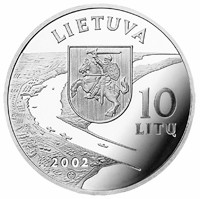 The obverse
of the coin features the Klaipėda Seaport. The centre contains the Coat of Arms of the Republic of Lithuania inside a shield, below it runs the inscription of the year 2002, the inscription LIETUVA (Lithuania) runs at the top and 10 LITŲ (10 litas) on the right.
The reverse
of the coin displays the fragments of the Klaipėda city and the city emblem, with the inscription KLAIPĖDA at the bottom.
On the edge of the coin:
KLAIPĖDAI — 750 (750 — KLAIPĖDA).