Lithuanian nature. Humble-bee.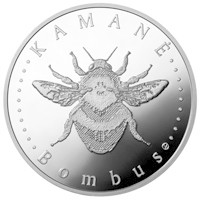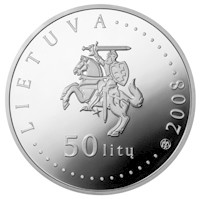 The obverse
of the coin carries an image of the Coat of Arms of the Republic of Lithuania (Vytis) in the centre. The inscriptions LIETUVA (Lithuania) and 2008 are arranged in a semi-circle around it, and 50 LITŲ (50 litas) runs at the bottom.
The reverse
side of the coin has a stylised image of a bumble-bee surrounded by the inscriptions KAMANĖ and BOMBUS.
On the edge of the coin:
KAMANĖ PO ČIOBRYNUS LEKIOJA, GIEDRĄ NEŠIOJA (In the thyme fields a bumble-bee flitters around, bringing sunshine).