Lithuanian nature. Lithuanian campion.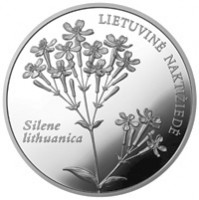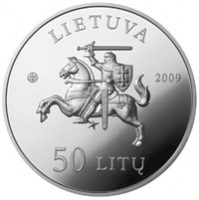 The obverse
of the coin carries an image of the Coat of Arms of the Republic of Lithuania (Vytis) in the centre. The inscriptions LIETUVA, 50 LITAS, and 2009 are arranged in a semicircle around it.
The reverse
of the coin bears the image of Silene lithuanica—a plant included in the Red Book of Lithuania. The plant is surrounded by the inscriptions LIETUVINĖ NAKTIŽIEDĖ and Silenė lithuanica.
On the edge of the coin:
LIETUVOS GAMTA (LITHUANIAN NATURE).