Lithuanian nature. Lynx.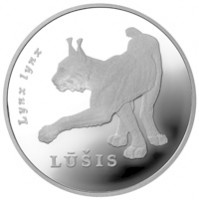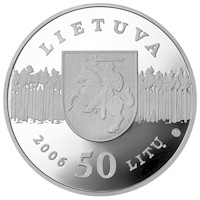 The obverse
of the coin bears the Coat of Arms of the Republic of Lithuania inside a shield against the background of a forest, encircled with the inscriptions LIETUVA (Lithuania), 2006 and 50 LITŲ (50 litas).
The reverse
has an image of the lynx from the Red Book of Lithuania is shown against a mirror background, with the inscriptions LŪŠIS (Lynx) and LYNX LYNX around it.
On the edge of the coin:
stylized footprints of a lynx.