Lithuanian Presidency of the Council of the European Union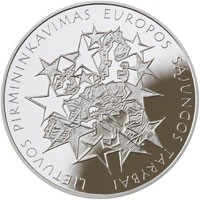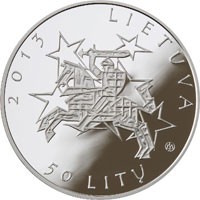 The obverse
of the coin contains Vytis, a stylized coat-of-arms of the Republic of Lithuania in the centre; the inscriptions 2013, LIETUVA (Lithuania) are arranged in a semicircle above them; the denomination 50 LITŲ (50 litas) is placed at the bottom. The mintmark of the Lithuanian Mint is on the obverse of the coins.
The reverse
of the coins features a stylised map of the Europe Union in the centre, the inscription LIETUVOS PIRMININKAVIMAS EUROPOS SĄJUNGOS TARYBAI (LITHUANIA'S PRESIDENCY OF THE COUNCIL OF THE EUROPEAN UNION) is arranged in a circle.
The edge of the silver coin
bears twice the inscription 2013 07 01 – 2013 12 31* (01 07 2013–31 12 2013).