London Olympic games 2012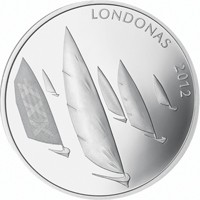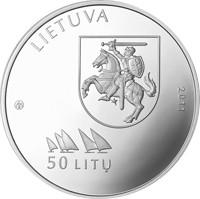 The obverse
of the coin carries an image of the Coat of Arms of the Republic of Lithuania (Vytis) in a shield. The inscriptions LIETUVA (Lithuania) and 2011 are arranged in a semi-circle around. The inscription 50 LITŲ (50 litas) is inscribed below a symbolic image of sails.
The reverse
of the coin illustrates a branch of Olympic sports—sailing. The inscription LONDONAS (London) 2012 is arranged in a semi-circle on the edge. A double (latent) image is incorporated into one of the sails on the left side of the coin. When the coin is viewed at a certain angle, the image elements can be seen: the logo of the Lithuanian National Olympic Committee and the number XXX.
On the edge of the coin:
VĖJO (WE NEED WIND) and stylized sails.