Medininkai Castle (from the series "Historical and Architectural Monuments of Lithuania")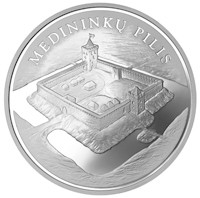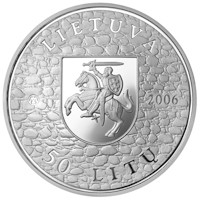 The obverse
of the coin bears the Coat of Arms of the Republic of Lithuania inside a shield against the background of the fragment of the wall of the castle, encircled with the inscriptions LIETUVA (Lithuania), 50 LITŲ (50 litas) and 2006.
The Medininkai Castle is shown on
the reverse
by combining mirror and matt surfaces. At the top of the reverse runs the inscription MEDININKŲ PILIS (Medininkai Castle) arranged in a semi-circle.
The words on the edge of the coin:
ISTORIJOS IR ARCHITEKTUROS PAMINKLAI (HISTORICAL AND ARCHITECTURAL MONUMENTS).