The 100th Anniversary of the Great Seimas of Vilnius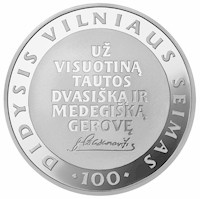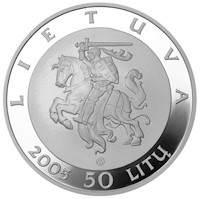 The obverse
of the coin bears the stylised Coat of Arms of the Republic of Lithuania (Vytis), encircled with the inscriptions LIETUVA (Lithuania), 2005 and 50 LITŲ (50 litas).
The reverse
of the coin carries an extract of the speech delivered by Jonas Basanavičius at the opening of the Great Seimas of Vilnius (Congress of Lithuanians in Vilnius): UŽ VISUOTINĄ TAUTOS DVASIŠKĄ IR MEDEGIŠKĄ GEROVĘ (For the universal spiritual and material welfare of the nation). Below, there is a facsimile of his signature. The extract is encircled by the inscriptions DIDYSIS VILNIAUS SEIMAS (Great Seimas of Vilnius) and 100.
The edge
of the coin features the Pillars of Gediminas.